Principles of Waste Incineration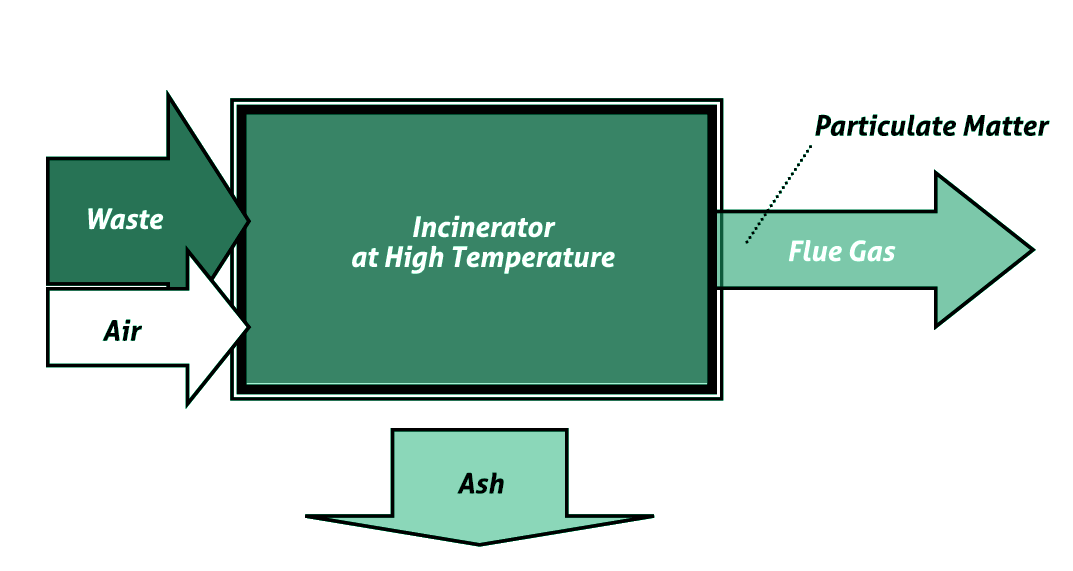 Waste incineration is the thermal oxidation of combustible matter with oxygen (from air) at sufficient temperatures to ignite the waste. The combustion design also generates heat sufficient to destroy volatile contaminants in the hot gases before being emitted through the stack. Cyclonator incinerators can be modified to recover energy contained in the waste gases.
Wastes are incinerated to destroy the mass and volume of material that would otherwise require disposal in landfills. Another important reason is to detoxify waste, since it can contain pathogenic, infectious or toxic materials. For example, in remote areas, where wildlife is present, incineration of waste is used to prevent scavenging and the spread of diseases.
Waste characteristics include combustible materials that thermally oxidize (burn) with oxygen in an air flow (21 per cent oxygen by volume with 79 per cent nitrogen) and non-combustible matter that does not (inert materials). In waste incineration operations, the non-combustible components end up as ash and a small portion of it is present in the hot gas in the form of particulate matter or dust emitted with the hot waste gasses (flue gas) from the stack.
Waste Characterization
There are different ways to characterize waste to quantify the combustion capacity for Cyclonator incinerators. The components are as follows:
A. WATER (moisture content)
is an important component because, in incineration, it has to be evaporated, which requires energy and lowers the temperature of the flue gas.

B. COMBUSTIBLES
are the components that react with heat and oxygen and release heat in the process. The higher the combustible content in the waste, the more air is needed for incineration. This component can be further classified as:
Volatile, which is released to the gas phase when the combustible matter is heated without oxygen, and
Fixed carbon, which remains in the solid waste after the volatile has been released. This is often referred to as charcoal.

C. NON-COMBUSTIBLE (ash)
is the component that does not react with oxygen. The higher the ash content in the waste, the less that can be incinerated without removing ash from the combustion chamber. NOTE: If the waste contains metals, such as lead or cadmium, these heavy metals will be present in the ash as well as in the particulate matter.